Single Digital Gateway Regulation released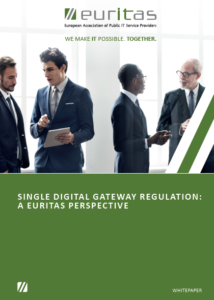 With the recently released Single Digital Gateway Regulation (SDGR), the European Union wants to simplify access to cross-border administrative services for citizens and companies. Documents should no longer be provided by the applicant, but should, if possible, be obtained by the authorities themselves, also across borders. The SDGR thus follows the basic principle of
one-off provision and recording of data according to the Once Only Principle. The applicant should be at the centre of consideration and perceive the administration as a service provider. This is additionally reflected in the multilingual nature of the descriptions and services.
From a Euritas point of view, public administration service providers play a special role in the implementation of the SDGR due to their experience in the conception, development and operation of online services as well as the resulting contact with users. In order to make the implementation of SDGR a success, the public IT service
providers can contribute the following competencies and experience to the implementation
of SDGR:
Findings on the user-centred design of services.
Experience of online services, from conception to operation.
Practical experience in cross-border communication between systems.
Consulting on the standardisation and reusability of components and architectures with the goal of technical interoperability.
Experience, in order to combine the offered services end-to-end in such a way that the user is the focus and perceives the administration as a service provider.
The EU sees the administration as a digital service provider in the European internal market. The SDGR is intended to implement
a cross-border, user-centred approach to the provision of administrative services. If one takes a broad view and considers what digital services outside the administration look like today, one may think of large online department stores, portals for booking
holidays and flights or buying cars. There are no limits to the imagination. With all these services, national borders are no barriers, the times of day play no role and the needs of customers are the focus.
A working group within Euritas summarized some early conclusions in a document. The SDGR_Whitepaper of the Euritas working group aims to highlight the benefits of the SDGR for applicants and administrations and to show how public administration service providers can make a valuable contribution to the implementation with their experience.