Euritas introduction at public sector conference "Digitaler Staat" in Berlin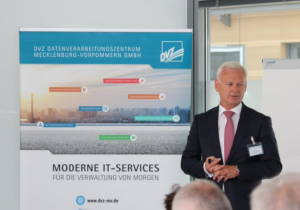 Innovations within the ICT sector – how public ICT service providers can keep pace?
DVZ presented some insights into innovative aspects from organisational and service portfolio perspectives to answer the headline question at the German public sector conference Digitaler Staat.
Within this 90 minutes session Euritas president Mr. Ludwig introduced the network as an example of cross-border cooperation between public ICT service providers.
More than 500 participants joint the conference this year. To get a glimpse about the full program please have a look here (only in german).