"Digital Public Management – simple, electronic, efficient" a congress for our customers on 7.September 2017
On September 7, 2017, over 300 employees of the Berlin administration met for the 4th Berlin Administrative Congress. The community event of the Senate Administration for the Interior and Sports and the IT Service Center Berlin (ITDZ Berlin) focused on "Implementing the Berlin E-Government Act".
The congress was opened by Senator Andreas Geisel. The started the panel discussion on "e-government as an opportunity". It was discussed very closely by the mayor of the district, Mr. Oliver Igel, the responsible state secretary, Mrs. Sabine Smentek, the head of the ITDZ Berlin Mrs. Ines Fiedler and the employment representative Mrs. Daniela Ortmann.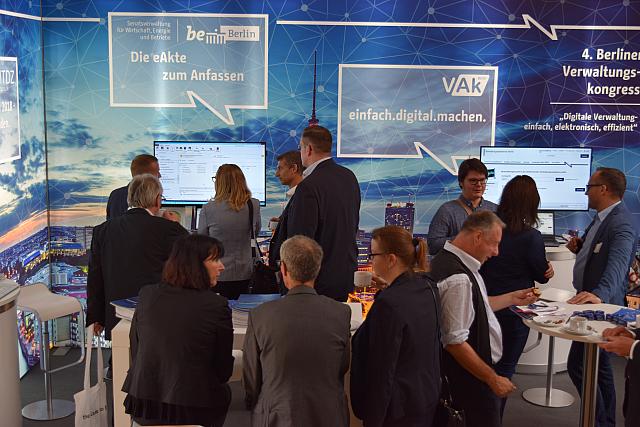 In the 13 highly informative and well-attended forums, the lecture on business process management, the e-file, or the Neuköllner way to the production of personnel was reported in detail and discussed with the conference participants the further implementation of the e-government law. This themes will continue to play a central role in the coming years, there will surely be further events on this topic. The cooperation between the various administrative levels and the participants in digital change has been strengthened by this meeting. There were shown concrete ways to implement the digital agenda in order to bring forward Berlin in e-government.