EURITAS SUMMIT 2021: Ensuring the digital sovereignty of European governments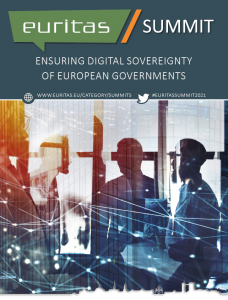 BRUSSELS, 30/09/2021
The one-day international conference on digital sovereignty of EU governments took place on Thursday, September 30, 2021, bringing together stakeholders from national and regional governments, public IT service providers and EU institutions. The Brussels event was organized by EURITAS, an association of public sector IT providers from eight European countries that addresses key issues in the digital transformation of public administration – both at national and European level. The theme of this year's summit was in line with the EURITAS position paper adopted in May 2020 and an initiative by EU leaders earlier this year calling on the EU and the European Commission to accelerate digital transformation.
"After more than 20 years voluntary cooperation on EU government interoperability we have to finally establish a mandatory framework to enable interoperability by design and default" declared EU Commissioner for Budget and Administration Johannes Hahn in his keynote address at the opening of the 2021 EURITAS Summit on Securing the Digital Sovereignty of European Governments.
This year's Summit, which was divided into three panels, addressed several initiatives and concepts that guarantee the security of public administration data in the cloud and the compliance of cloud services with the GDPR. It explored how open source software can reduce dependence on large vendors that dominate the European ICT market. Furthermore, participants discussed ways to promote greater cooperation and coordination to ensure the security of citizens' digital infrastructure and data.
In his address, EURITAS President Markus Kaiser of the Austrian Federal Computing Center emphasized the importance of the digital independence of European public administrations. "Being digitally sovereign is of utmost interest to our governments and citizens.  This is the only way we can ensure that data is not misused or even used as a pawn in political crises. Not only semiconductors and medicines are essential for resilience. Digital transformation will also shape the future of public administration. The future of public cloud applications does not lie in the dominance of American or Asian providers, but in a strong local and European infrastructure that meets the highest European security and data protection standards," says Kaiser.
You can read more about the Euritas Summit 2021 in the Euritas Summit 2021 Executive Summary