EURITAS SUMMIT 2023: Cloud, AI and Sustainability – Digital transformation challenges for public administrations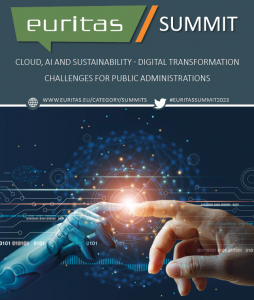 AI, sustainability and cloud services in the focus of EURITAS 2023 Summit
Digital transformation challenges facing public administration were in the focus of the international conference organized by EURITAS in Brussels on Thursday, September 14, 2023. Bringing together stakeholders from national and regional governments, public IT service providers, EU institutions and academic community, the conference addressed three key topics of modern digital government: artificial intelligence and its application in public sector, sustainability of digitization projects and cloud strategies and services.
Artificial intelligence has a great potential for digital transformation of the public sector – stated Marcus Hudec, CEO of Data Technology in his keynote address at the opening of the 2023 EURITAS Summit: Digital Transformation Challenges for Public Administrations. He however pointed out the various risks connected with the AI technologies such as bias or lack of common sense. For successful implementation of AI technologies in public administration several challenges must be overcome, such as existing deficiencies in interoperability of data sources, said Hudec.
Basis for joint positions
This year's summit, divided into three panels, continued to explore the cloud strategies and services from the unique point of view of public administrations and the EU Commission, among others in relation to hyperscalers, and based on the EURITAS 2022 Position Paper. Conference participants also examined environmental impact of data centers and further ways to make IT operations more energy efficient and sustainable. As AI becomes an integral part of future digital solutions, the final panel looked into potentials and limits of artificial intelligence, discussing specific conditions for application of AI technologies in public administration.
In his welcome address, acting President Soren Vulff of the Danish Statens IT emphasized the importance of close cooperation of public ICT providers on European level and frank discussions with other stakeholders, a traditional format for the EURITAS summit. "The viewpoints and experiences presented today will influence our joint position on number of issues, including the paper we are preparing on application of AI in public sector", said Vulff.
Digital services for  115 million European citizens
As an association of public ICT providers EURITAS represents 13 companies and institutions from ten European countries, delivering online public services for more than 115 million European citizens. The aim of the organization is to serve as a voice and network of public ICT service providers, promoting digital sovereignty of European public administrations through better cooperation and coordination in building strong and independent digital infrastructure across Europe. EURITAS's biannual summit, held in Brussels, is an invitation-only event for stakeholders of public ICT sector dedicated to current issues of digital transformation of public sector.