Euritas Summit 2021
When:
30. September 2021 @ 10:00 – 17:00
2021-09-30T10:00:00+02:00
2021-09-30T17:00:00+02:00
Where:
Thon Hotel EU
Rue de la Loi/ Wetstraat 75
1040 Brussels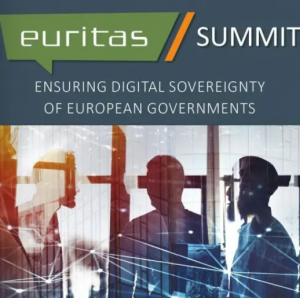 The Euritas Summit is an invitation only event.
We kindly ask you to visit the Summit only with a valid vaccination certificate or a current proof of a PCR-test.
AGENDA (can be subject to change):
Session
Topic
Speakers
09:45-10:15

Welcome

Registration and welcome
10:15-10:20

Opening


Opening and introduction
Markus Kaiser, President of Euritas, CEO of Austrian Federal Computing Center
10:20-10:45

Keynote speech

Johannes Hahn

,

EU-Commissioner for Budget and Administration

10:45-12:15

Panel I
Cloud Strategies


Public administrations in Europe have to keep full control over their data, especially personal data of citizens, when using cloud services. Several initiatives in Europe try to create standards for such services to ensure public and private actors can use them in compliance with GDPR. The panel will look at concepts to guarantee the safety of public administration's data in the cloud.
Presentations and panel discussion

Pierre Chastanet, Head of Unit – Cloud & Software, DG Connect, European Commission

Ernst Stöckl-Pukall, Head of Unit IV A 5, German Federal Ministry for Economic Affairs and Energy

Herald Jongen, Advocaat | Partner, Greenberg Traurig, The Netherlands

David Vannozzi, CEO of Cineca, Italy

12:15-13:00 Lunch Break
13:00-14:30

Panel II
Open Source

Many public administrations are depending on a few large suppliers for standard software products. Open source software can be an important enabler for Digital Sovereignty of public administrations in Europe by reducing these dependencies. What is necessary for public administration to use more open source alternatives?
Presentations and panel discussion

Martin von Haller Grønbæk, Partner, Bird & Bird, Denmark

Thomas Gageik , Director for "Digital Business Solutions", DG Informatics, European Commission 

Leonardo Favario, Open Source Project Leader, Digital Transformation Team of the Italian Government

Gawain MacMillan, Chief Architect and Programme Management, Dataport, Germany

14:30-15:45

Panel III
Cyber Security

Public administrations ensure the safety of the digital infrastructure and the data of citizens. However, cyber-attacks are becoming more numerous and more sophisticated. Stronger coordination and cooperation are needed to defend the digital sovereignty of public administrations in Europe.
Presentations and panel discussion

Leonardo De Vizio, Policy Officer, DG Connect, European Commission

Philipp Amann, Head of Strategy, European Cybercrime Center, Europol

Cristian Hesselman, Director of SIDN Labs, The Netherlands

Hannu Naumanen, Chief Security Officer, Valtori Government ICT Centre, Finland

15:45-16:00 Coffee Break
16:00-17:00

Final discussion

 

Markus Richter, Federal Government Commissioner for Information Technology, Germany

Luis Barreira de Sousa, Digital and Cyber Ambassador, Portugal


Sasa Bilic, Vice-President of Euritas,
CEO of APIS IT, Croatia

Markus Kaiser, President of Euritas, CEO of Austrian Federal Computing Center


17:00 The Summit ends with a networking opportunity for all speakers and participants.